JMac
Good morning, and Happy Father's Day! My morning so far has perfectly encapsulated the reality of Father's Day for your average middle class working dad.
No brunch at the country club, no croquet on the south lawn in white linens, just my wife coming home from a long night of delivering babies short staffed at the hospital and dropping off McDonald's breakfast before hitting the rack.
Middle child is awake and playing iPad, dog is sleeping beside me on the couch, and big and small children are still asleep. A nice quiet start to the day.
Week 1 of my official candidate status is in the rearview mirror. I filed the day after the Ontario election so that I could start some of the pre-work, like setting up a bank account, but I would consider last Sunday to be the first day that I started moving forward with my candidacy.
The last week has been pretty awesome, and not really for any reasons election related interestingly enough.
On June 11th, my wife and I dropped the kids off at her brother's for their second ever sleep-over, and headed to Toronto to see The Lumineers at Budweiser Stage. It was my first time at this awesome venue, and my first time seeing The Lumineers in concert as well. Wow. Blair from 98.1 Free FM told me that as a huge music guy they were a top 10 ever live concert and I can totally see why. What. a. show. It made getting home at 2 AM all the more palpable. Should've gotten a hotel, I know! It was extra cringe walking by Hotel X on the way to the Go Station to start our 3 hour trip home at 11 pm.
An actual photo from the show, yes
My workweek was a pretty average workweek.. Working from home Monday and Tuesday with a sick kid was hard, but he went back Wednesday and all was well.
Wednesday was the 41 million degree day, and I had my second appointment with Chiropractor Dr. Matt at Wortley Wellness since hurting my neck pulling the classic dad move of sleeping funny and then following that up with maxing out on overhead press.
I walked across the street to Sidetrack Cafe, already sweating, and decided to do a random act of kindness. Why? Because supporting small business is important and it's the right thing to do and made me feel good.
It might feel awkward to ask a barista "hey can I buy a gift card and leave it with you and if anyone mentions the free drink Facebook post use it to pay for their drink", but I can assure you that they love stuff like that.
There's nothing like turning the constant question as soon as people see you of "what's wrong with your neck?" into a good feeling!
On Thursday, my little buddy felt well enough to return to tee-ball. I wanted to put my girls into tee-ball, but COVID had other plans, so I am extra enjoying this experience so far. Since tee-ball is like herding cats, I am helping the head coach out and absolutely loving it. The kids are bundles of energy and curiosity, and it is organized chaos.
Yup, the one that's a head taller than his teammates is in fact mine. No surprise there.
On Friday, I was able to co-host one of my favourite Dad Club events, "Dads Do Lunch".
Once a month, dads meet up at lunchtime at a locally owned restaurant in London in order to connect, engage, and give back to those who have been there for their communities for so long and in so many ways.
This month, nine of us met at Edgar and Joe's and it was great. The food, the service, the company, and the companionship. Normalcy and community are well deserved and long overdue.
On Saturday, we had a chock full day. I took the kids to Central Library for their Father's Day craft event in Children's Library and Creativity Lab open house on the second floor. They didn't get to nearly do everything they wanted to before little guy had soccer, and we ended up going back with mummy in the afternoon.
I'm a bit jealous of whosever job it is to build the lego displays. Thank you to all library staff for doing what you do every day.
This brings us back to today and full circle to the point of this blog post. Throughout the last week, I've been building out my website and having conversations with people in the community and laying the groundwork for my campaign.
I'm a lot of things. One of them is a pragmatist.
I'm running for City Council not because I have any long term political aspirations, but because I am someone who is capable of making change and producing results. People asked me to run because they were unhappy with their current representation, and my reputation is for stepping up when needed, and for doing things differently than the status quo.
In this race for the 2022 municipal election, it turns out that I'm up against a very well-qualified candidate, and someone whom I don't have and won't have anything bad to say about.
She's the most recent President of a local political organization that is for civic politics and political advocacy as to what Dad Club London is for fathers and social and community support. But with a 40 year head start on us.
This copy , from their website, is old as it doesn't include Stephen Turner, 2 term ward 11 councillor
As you can see, the reality is that my opponent is very good and very well-supported by the local political scene.
There's good news though.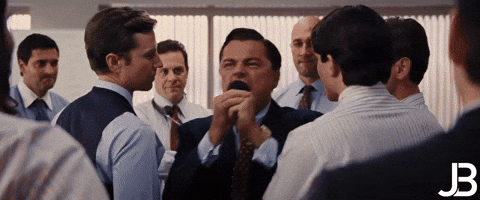 I'M NOT LEAVING! - Jordan Belfort, Wolf of Wall Street
London is a city known for NIMBYism, and a lack of progress. If you look at my disclosures page, you will see that I'm as progressive as they come in terms of who I support, and completely free from outside influence in terms of who I am advised by and answer to as a volunteer, an employee, and a candidate.
If you're tired of the status quo in London, and want to see a people-first agenda, where housing gets built, projects get completed, and people have the opportunities and answers they deserve and need, then I am your candidate.
In the Summer of 2017, I was approached by a fellow local dad and school board administrator and asked to raise money to purchase life-saving defibrillators in response to Andrew Stoddart's otherwise possibly preventable death due to no defibrillator on site at a local school. I raised $53,000 in 2 months with the support of my DCL crew and our local community. Over the next few weeks, I will doggedly pursue the resources I need in order to run a successful campaign on behalf of the little people out there.
I grew up living in poverty, with a single parent on disability who bought cigarettes and beer before they bought groceries. I've had holes in my socks, holes in my shoes, and pants that didn't touch my ankles. I've earned everything I've accomplished and fought every step of the way for what's right, and fought against the unacceptableness of the answers of "nothing I can do", and of "that's the way it is and way it's always been." I''m not going to spend any campaign dollars until I hit my budget target for fundraising. If I don't hit it, I will return all of the donations I receive.
Why? Because even though I am Goliath in stature, in this race I am David.
Our cost of living is through the roof, and every dollar counts for the sake of us and those who rely on us.
I'll leave no stone unturned in adequately funding my campaign, but I also don't half-ass things either. I'd rather buy someone in need a meal than buy a sign or a pile of flyers, so I will do it all out or not do it at all. 20 signs or 500 flyers won't win this election, so I'll just send the money back at that point and go without.
You deserve City Hall representation that works for you. That wants to build responsible affordable housing, create jobs, respect our environment, and create more chances for people to be safe and active and connected. And to know they're putting you first at all times. I'm that candidate. I can and have worked well with councillors across the spectrum, and have a track record for getting things done.
If you have a few minutes, and want to see what I have gotten done, then reading my LinkedIn is boring. Why not check out year by year videos of what Dad Club London has accomplished with no paid employees or sustained funding instead? These videos make me and my kids smile all the time.
2018 is a good one, and was made by a professional
To support me, click here to donate or click here to write a testimonial as to why others should donate/vote . If you would like to hit the streets or the internet and help drum up support, then click here to join my team .